For most football fans, an away day consists of vaguely-cold cans of beer, stuffy cross-country trains and odd looks from the locals.
But for Stephen Kingdom, this season has taken an altogether more… scenic turn.
On Friday morning, for the last time this season, he will strap into his bike and set off from his home in Cheam, south-west London. The destination is Old Trafford, Crystal Palace's final game of the season and his too.
Making every home and away game as fan is an incredible effort even by normal standards – but especially so when you are doing it solely using pedal power.
"Over the years I've read a whole load of books of people doing mad cycling things – Tim Moore, Mark Beaumount – and I've always wanted to do something like that," Kingdom begins, as he tries to explain the brain processes that lead to over 7,000 miles of cycling, rain or shine.
A year ago this week the civil servant finished work after taking a redundancy package and pondered his next move.
"It was something I'd thought about as I already went to a lot of games but I never really thought it practical. Last year I got the chance to take a voluntary redundancy and thought it a good opportunity to reassess my career options. I decided I wanted to do it for a good cause, and after working with Contact in the past I knew it was a good charity."
Stephen has made it to Anfield this season ()
Finished with his day job, it was a time for planning. Of working out whether this was even possible while also adhering to certain rules laid down by his wife, Janet.
"I wasn't allowed to miss the kids' birthdays but that was about it. She was very understanding.
"My wife is the practical one of us and looked at last season's fixture list to work out where the problems might be but it became one of those things where you couldn't be anal about it and just had to let it happen."
So when the fixture list came out in the summer, the maps could come out and the maths could begin. How on earth was this going to be possible?
"The fixtures worked out pretty terribly," he says.
"August was only Spurs away but September was Sunderland, Middlesbrough and then the outward journey for Everton. The two longest trips were the first long ones of the whole season.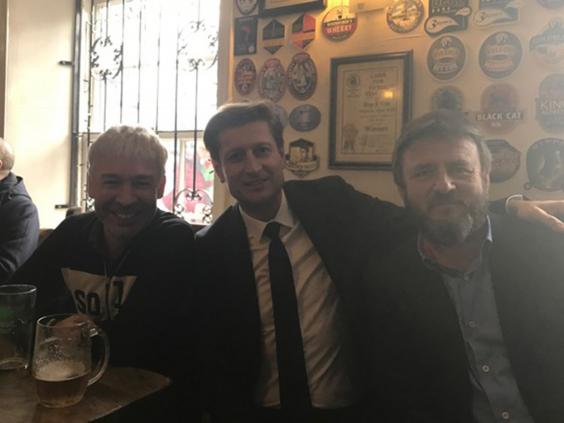 Stephen has received support from Palace chairman Steve Parish ()
"At that point it was sink-or-swim but by the point I got back from those three trips that, unless I was ill or had mechanical issues, that I'd be able to do it."
And do it he has. Or nearly, at least.
Setting off for Manchester on his final trip, Kingdom at least no longer has the worry of relegation weighing on his shoulders. Sam Allardyce had promised him as much, just one of a number of gestures from a club who have been supportive of this Herculean charity effort.
Contact are the beneficiaries of Kingdom's borderline lunacy and, even in the darkest days, when pedalling into a headwind and hailstones on the way back from West Bromwich, that cause has kept him going.
"Contact are a wonderful charity who support families with disabled children. They provide a range of support – local projects, a national helpline and a great website – as well as a big focus on helping to network families so they can support each other."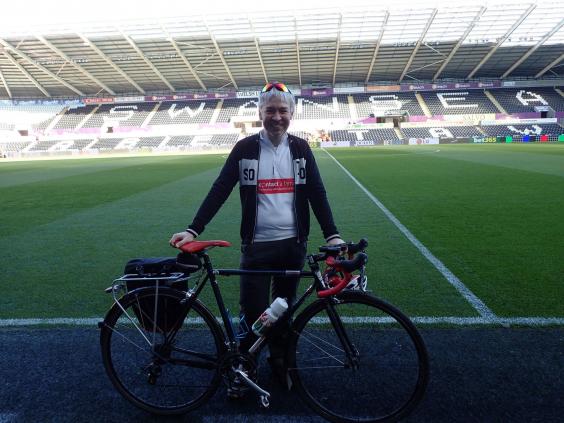 He has also made it to South Wales for Swansea away ()
Kingdom's JustGiving page has raised £13,366 at the time of publication, close to his target of £15,000.
The hope is that by the time he returns from Manchester on Tuesday – having completed some 550 hours on a bike over the whole campaign – he will have reached that goal.
But after a season of broken spokes, gear problems and burning thighs, is he glad it's all over or is he desperate to get back on the bike?
"I think I won't get the opportunity to do it again, but I'll really miss it."
You can donate to Steve's JustGiving page here and for more information about the excellent work done by Contact, visit their website.
Reuse content
Source link
Comments
comments