"It is annoying that Question Time is on so late on a Thursday, to be honest," says Christian Burgess. "It goes on nearly till midnight. I think a lot of people enjoy it so I don't know why it has such a late slot." It is a minor yet genuine gripe for the Portsmouth defender who very much defies the stereotype.
Burgess has had an unorthodox journey into professional football. Let go by Arsenal at 12 and then by West Ham United, he landed a professional contract with Middlesbrough eight years later after impressing the then manager Tony Mowbray in a reserve fixture at Scunthorpe following a two-day trial. At the time Burgess was playing for Birmingham University and it was the Easter break.
"It is not your bog standard route," he says. "It's just how it worked out, I guess. It went from just: 'I might as well, there is nothing to lose' to all of a sudden I had a chance to play football. It was a bit crazy – I finished second year and moved up to Middlesbrough."
He achieved a first-class honours degree in History, completing his studies at Teesside University while on loan at Hartlepool United, with his dissertation on the naval arms race between Germany and England before the first world war put forward for a national prize. "I don't think it won the award; I never got told about it if it did," he says, laughing. Burgess, who left the north-east for Peterborough in 2014 before joining Portsmouth a year later, makes fascinating company over an hour at the club's training ground, where he sits in front of a picture of the HMS Warrior.
"It just so happens that I came to Portsmouth to play football," Burgess says. "It has a huge naval history here, they are very proud of that and a big part of the city is still based around the navy. You do not find me wandering around the historic dockyard that much – although I have been once or twice."
Burgess is not alone is being an undergraduate rather than an academy graduate. Others include his team-mate Tom Davies, who arrived at Portsmouth via Northumbria University. Barnet's Tom Champion studied sports science at Birmingham, Sunderland's Duncan Watmore did economics at Newcastle and another Portsmouth player, Danny Rose, is on the sports journalism degree course run by the Professional Footballers' Association. His club-mate Gareth Evans is due to enrol on that in September. It is, though, a relatively rare point of entry.
Burgess is bright and knows the next question. "Just banter," he says. "People say: 'What were you going to be? Were you going to be a librarian or a history teacher?' You have to explain to them that just because you did a degree in history – that does not necessarily have an obvious link – it does not mean you will automatically work in a museum.
"It was very different-slash-difficult at first. When I went to Middlesbrough I was in the under-21s, I was one of the oldest ones in that group at the time and just getting used to training every day, full-time. There were a lot of guys who were younger, so probably not in the same phase of life I was in, I suppose. There were young guys just coming out of scholarships, earning their first pro deals, 18-year-olds and 19-year-olds. And when you grow up in the academy system you grow up in a bubble as well.
"I had lived on my own for two years at university and lived off scraps. They were very much looked after and did not know much else. We were quite different so it was challenging to fit in, if you like, but once you get used to something you adapt. It is probably easier once you are in first-team football because a lot of those lads grow up quickly. They have got heads on them and they are smart. They are not just your typical footballer."
Neither is Burgess. In January, with Portsmouth's match at Crawley postponed because of a frozen pitch, he posted a in the gym that went viral. "Don't know what to do with myself … anyone need a player?" it read. He had been considering going to the women's march in London, as a "big critic of Donald Trump", but failed to convince any friends to join him – before receiving requests to cut down trees and paint somebody's bathroom. Will Chitty, a youth football coach, responded by inviting Burgess to assist at his under-12s training session at Bransbury Park. "Be there in five," Burgess wrote back, while parked with the playing fields in sight.
"I walked on and there were two groups, one over there and one over there," he says, glancing from side to side. "It was funny because I drove past that park probably the week before so I knew what it was called otherwise I would not have had a clue. But I had no idea who this guy was or where they were. I was just standing there for a second thinking: 'Who is it more likely to be?' I was racking my brains, thinking: 'It is an older guy – is he more likely to have that group or that one?' I made the right guess so when I was walking over he noticed me."
Burgess put on a possession-based session, straight off the training ground, before engaging in a mini Q&A.
"I was more than happy to join in. Why not? What was I going to do? I was just going to go home, sit on my couch and watch TV or something. So I thought: 'Why not just go and do anything to make some kids' days or whatever' – it was not a big deal. And then it kicked off on Twitter – my phone was going off for days."
The reaction to Burgess's gesture spoke volumes but does it happen often enough? "I can see it from both ways," he says. "I think it is a little bit unfair; top footballers in Manchester or London will struggle to go anywhere without getting huge amounts of attention. If they turned up to Hackney Marshes there would be a riot. In the Premier League the players deal with a lot more scrutiny, a lot more media attention and a lot more abuse on social media, so you can understand why they are less inclined to turn up to a park. If Paul Pogba turned up at a park, he would be surrounded and he almost would not do anything. I turn up, coach a group of under-12s and just drive off."
Burgess has immersed himself in the city. He applauded those who took part in the Great South Run last October out of the window of his home in Old Portsmouth. "I really, really like this city and geographically the shape of the island is so enclosed it has this real feeling of community about it," he says. "Everybody is Portsmouth. It is almost like you know everybody. It is not a huge city but the feeling is that everybody is part of the football club."
Everybody is part of the political discourse at the back of the team coach too. Away trips allow Burgess and his team-mates time to talk public affairs. "Everybody in the changing room has a view on Trump and sometimes we have a little discussion at the back of the bus," he says. "Carl Baker is interested, Kyle Bennett likes to know what is going on, Danny Rose is a bright lad but there is no hope with Kal Naismith. When the leadership debate was going on between [David] Cameron and [Jeremy] Corbyn, I was watching a lot of that on the overnight stays with Kal and was trying to get him involved.
"I followed the American presidential campaign quite closely – I was a supporter of Hilary Clinton. I suppose it is a sorry state of affairs for somebody like Trump to come through and win so many hearts. I think it is crazy, just amazing how split it is between the Democrats and the Republicans, especially with nationalism rising in Europe – it is quite scary, I think, because that is what I saw a lot in my dissertation.
"There is a theory that the rise in nationalism led to Germany going on a more aggressive approach, Britain were dominant so had to defend themselves in the colonies and the seas, and that was how the naval arms race came about, because Britain were the main power. Nationalism had a big effect and then never really went away and led to Hitler as well."
Burgess talks openly and expresses his gratitude for the platform provided by his parents – both teachers – for him, his older brother and younger sister from a working-class background. "We were incredibly lucky they gave us that – they came from absolutely nothing," he says.
"The Labour party is in disarray at the moment … we are going totally off topic but it is sad to see that," he says as the conversation moves from fake news, back to Trump, to the NHS and then finally to football.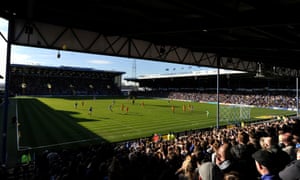 After successive relegations, this is Portsmouth's fourth straight season in League Two. A result against Portsmouth is the scalp every team in the division want. The weight of expectation at Fratton Park is huge, with an average crowd in excess of 16,500 this season. It was only a matter of time before the club, fan-owned since 2013 after plummeting through the Football League, again became the subject of takeover interest, with the former Walt Disney owner Michael Eisner entering talks over buying the club last month.
Portsmouth are in the third and final automatic promotion slot, with an eight-point cushion, going into Friday's match at home to Plymouth, who are immediately above them.
"I feel that we need to make it happen," Burgess says of promotion. "The support is massive, everybody is a Portsmouth fan and you just do not drive around and see your Chelsea, Manchester United or Liverpool shirts – you just see Portsmouth gear everywhere.
"It is crazy and it is a nice feeling to be part of something that big. Everybody wants the football club to get back where it was, with a much better financial structure to it, real Pompey people behind the scenes."
The end goal, for this season at least, is in view with X games remaining this season, but what would he have done had Middlesbrough not come calling? "A lot of people from my area, just outside of north-east London, tend to work in the City – a lot of my family have done that – so that was probably the plan, just to get a degree and go and work in the City and try and play football part-time."
His friends and former flat-mates have become lawyers or academics. Others work in property. "Did I make the right choice? 100%." Burgess is open to a return to education, with a Masters on his radar. "I do not have a plan for after football," he says. "I try to be as shrewd as I can with anything I earn in this career. I feel like I could go into anything afterwards, as long as you go into it with the same work ethic." He could always follow in the footsteps of Joey Barton – whom he "had to unfollow on Twitter" – or Clarke Carlisle in flying the flag for professional footballers alongside David Dimbleby on BBC One? "Maybe in the future," comes the reply.
Source link
Comments
comments