THE CAPTAIN & TENNILLE AND FRANKIE GOES TO HOLLYWOOD
Leicester City's bid to become the latest club from the English Midlands to make fools of the European elite continues apace. It's all been going so well, as they follow the playbook written by Nottingham Forest and Aston Villa to the letter. Title surprisingly won by team of unsung journeymen, underappreciated cast-offs and emerging talent? Check! Manager barely able to last until the new year of the following season? Check! Tensions between manager and assistant that we'll probably never get to the bottom of, but at a cursory glance make the relationship between Brian Clough and Peter Taylor look like the Captain & Tennille? Check! All we need now is for Claudio Ranieri to rock up at a close rival, like Ron Saunders did at Birmingham, and we'll pretty much have the full set. Claudio the next manager of Coventry, then. And he won't be giving back the company car.
Leicester go into the biggest game in their history – or their biggest game for just over four weeks, depending on which way you look at it – dealing with the fallout of Ranieri's appearance on Monday Night Football. The title-winning boss spent most of the show playing Paul Rutherford to Jamie Carragher's Holly Johnson, the incredulous pundit's booming take on the recent performances of Mesut Özil and Alexis Sánchez being the most apocalyptic monologue delivered in a Liverpudlian brogue since the bit in Two Tribes about sex and horror being the new gods. But Ranieri did manage to contribute a few words of backing vocals, enough to claim someone behind the scenes at Leicester contributed to his downfall. When asked to respond, Craig Shakespeare simply shrugged: "This is football." A line he's unlikely to be able to use while watching tonight's game.
That's if you believe Antoine Griezmann anyway; the Atlético Madrid striker reckons their quarter-final with the Foxes will "not be a nice match to watch on the television". Both sides are famed for their uncompromising styles, though the English champs will be hoping the Vicente Calderón isn't a total rough house tonight; Jamie Vardy, Robert Huth, Islam Slimani and Wilfried Ndidi are all one booking away from missing the return leg. If that wasn't enough to encourage Diego Simeone to rub his hands together hard enough to make fire, the Atlético boss will also be anticipating the in-form Griezmann – 23 goals already this season – causing the visitors all manner of bother. After all, when the Foxes last visited Spain, Sevilla should have been four or five up before Vardy poached that crucial away goal, and Atlético have an added advantage in that, unlike Sevilla, they've got a track record of going deep in Big Cup and won't suddenly remember they're Sevilla. Godspeed, Leicester!
Meanwhile in this evening's other Big Cup ties, Borussia Dortmund take on Monaco in the goalfest postponed in the wake of last night's attack on the Dortmund team bus, while champions Real Madrid travel to Bayern Munich for the tie of the round. Is it cruel or merely mischievous to desperately want Bayern to lift the trophy, so the Pep Guardiola era is bookended by Big Cups won by other people? It's merely mischievous, right?
LIVE ON BIG WEBSITE TONIGHT!
Join Barry Glendenning and Paul Doyle for minute-by-minute coverage of Bayern Munich 2-1 Real Madrid and Leicester 0-3 Atlético in Big Cup at 7.45pm BST.
Tim Hill is already live for Borussia Dortmund 4-2 Monaco! We go again.
QUOTE OF THE DAY
"Obviously I would never have come here if it wasn't for all that money" – Graziano Pellè, of Shandong Luneng, takes the term 'honest pro' a little too literally.
SUPPORT THE GUARDIAN
Producing the Guardian's thoughtful, in-depth journalism – the stuff not normally found in this email, obviously – is expensive, but supporting us isn't. If you value our journalism, please support us by making a one-off or recurring contribution.
FIVER LETTERS
"My second team is Newcastle United…" guffawed Marten Allen, in yesterday's letters. Football teams aren't shoes, they don't come in pairs. Football teams are solitary things. You support your club, not your clubs. And the club should be thrust on you, at an age when you know no better. I mean, at the very least, if he had to pick another one (*shudder*), the very least he could have done is pick a team in a different division, or, better still, another country, so there's little chance the two would ever meet. But, no – he went for a club that's not only in the same country, but in the same league. He essentially swapped the bottom (ish) club for the top (ish) club. Football isn't for fun; it's a misery-based slog, an endurance test, bringing nothing but sadness. I should know, I support Sunderland" – Mark Evans.
"And as for Paul Dummett being the worst left back, you haven't seen my mate Dave" – Anthony T.
"Perhaps the managerial exit door could be disguised and labelled Lorna – as in Doone" – Mike Dunton.
"Sorry to John Caley and Christopher Smith but Coco has already been bagsied by Orient fans for Francesco Becchetti (and his Brisbane Road circus)" – John De la Cruz.
• Send your letters to the.boss@theguardian.com. And if you've nothing better to do you can also The Fiver. Today's winner of our prizeless letter o'the day is … Mike Dunton.
BITS AND BOBS
If you're still catching up with the terrible attacks on the Borussia Dortmund team bus last night, this is a handy guide as to what we know so far. German authorities investigating explosions say they have detained a suspect with what prosecutors described as links to "the Islamist spectrum", while hundreds of Dortmund fans offered visiting Monaco supporters a bed for the night using the hashtag #BedsForAwayFans. German media, meanwhile, have attacked tonight's game's hasty rescheduling: "sportingly and humanly unacceptable."
Some good news from the bad: Marc Bartra has said he is "doing much better" after suffering a broken wrist and shrapnel in his arm when Dortmund's bus was attacked with explosives.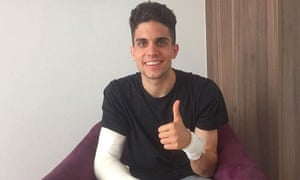 Madrid police have detained eight Leicester fans for public disorder prior to their team's match tonight against Atlético. Fans disrespected police officers and caused problems when the authorities tried to disperse a 100-strong crowd, according to a police statement.
Liverpool's Sadio Mané has gazed into his crystal ball and decided that he will return from knee-gah "better than before."
Tony Adams, new interim manager of La Liga side Granada [not the ITV franchise for the North West or even the Caribbean island Grenada – Fiver Ed] has predictably vowed to give the players "a kick up the arse". He's just taken on Nigel Reo-Coker and Kieran Richardson on trial. This isn't a joke. Sevilla away next week, Anthony!
A bad week gets worse for Barcelona: 3-0 down in their Big Cup tie with Juventus and now, Neymar will miss the clásico against Real Madrid this month. The Brazilian has been being given an extended ban for sarcastic applauding the officials after being sent off in the 2-0 defeat to Málaga.
STILL WANT MORE?
Proper Journalism's David Conn has had his say on Dortmund and the challenge of combating modern terrorism acts.
Sid Lowe has interviewed Álvaro Morata. It's a good'un.
Paul Wilson has written on why a snooty attitude towards Big Sam can spell trouble.
Diego Simeone sees a kinship with Leicester City but will show no mercy. So says Sid Lowe.
Somebody whispered into the Rumour Mill's ear that Alex Oxlade-Chamberlain is worth £35m.
Oh, and if it's your thing … you can follow Big Website on Big Social FaceSpace. And INSTACHAT, TOO!
"TWO HOURS?!"
Source link
Comments
comments