Even now after all these years at the top, Cristiano Ronaldo still has the power to bend games his way, to surprise opponents and observers who wondered if the old magic had worn off.
Real Madrid were nowhere in the first half of this quarter-final at Bayern Munich. In fact, they were 1-0 down and when Arturo Vidal had a penalty just before the break it should have been 2-0, sending the reigning European champions towards the exit.
But Vidal missed and Ronaldo sensed his chance. He scored twice in the second half, two poacher's finishes, as Bayern collapsed and Real seized control of the tie.
Bayern Munich vs Real Madrid – player ratings
Now Real have the 2-1 lead, with two away goals, and the prospect of their not defending this scoreline in the Bernabeu feels unlikely in the extreme.
This, after all, is why Ronaldo and Real Madrid won the Champions League in 2014 and 2016. They have never really played the best football in Europe, not for years, but they have a nose for the big moment, the dramatic and the decisive.
It has brought them two European Cups in the last three years, and when they can do this who would bet against four? Certainly not Bayern after getting turned over this way.
The challenge from Bayern Munich from the start was to turn their possession and territory into chances and goals. That is what they famously failed to do when they lost to Real Madrid in the semi-finals of this competition in 2014, a result that still stings here.
Ronaldo scored his 99th and 100th European goals ()
If Pep Guardiola's Bayern were sometimes guilty of over-complication, Carlo Ancelotti's side wants to be more direct and efficient. Manuel Neuer had to stretch to tip an early Karim Benzema header onto the bar, but after then the first half was almost all Bayern.
Thiago Alcantara was brilliant in midfield, running the game, but they also had the veteran wingers Arjen Robben and Franck Ribery to provide incision from out wide.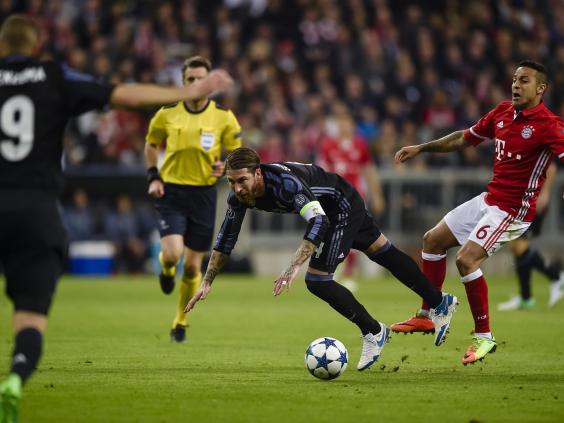 Thiago Alcantara had a fine game in midfield ()
Robben and Ribery were as dangerous as ever, taking the ball and taking men on, and when Gareth Bale had to head behind Ribery's 20-yarder it earned the corner that put Bayern ahead. Thiago took an out-swinger and it was met by the thumping run and header of Arturo Vidal, Bayern's barrel of muscle in midfield.
Vidal is not a tall man but he is a giant in the air and his next chance to double Bayern's lead also came with his head. When Robben stood up a cross to the far post no-one saw Vidal's run until it was too late, but his unstoppable header whistled just over the bar.
There was an even better chance to come in added time, when Bayern's waves of pressure forced a penalty.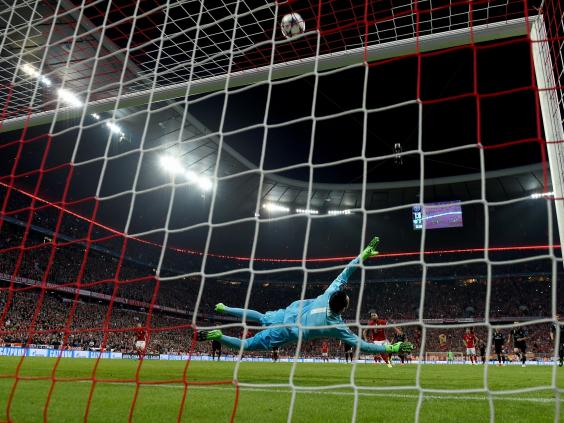 Vidal ballooned his penalty attempt over the bar ()
Ribery's shot was blocked by Dani Carvajal's arm and Nicola Rizzoli awarded a harsh penalty. Vidal stepped up but blazed it far over the bar, missing his moment to give Bayern a 2-0 lead their domination deserved.
Bayern must know how tight the margins are in the Champions League, and how much they can hurt. Because after one minute into the second half, Real Madrid scored in the goal which Vidal's penalty flew over.
Carvajal broke down the right and crossed. Cristiano Ronaldo, pulling back into space, volleyed the ball into the bottom corner. Ronaldo had looked off the pace in the first half but here he was scoring a crucial away goal at the start of the second. Some players never lose that knack.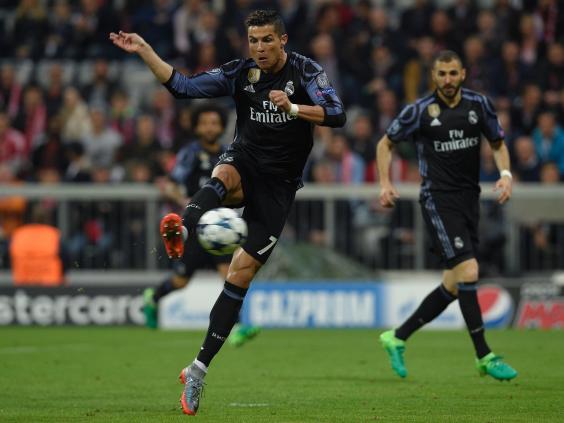 Ronaldo's volley levelled the scores ()
In a second the momentum switched. Real were level, but a 1-1 away draw is a first leg victory. When Modric stabbed a cross to Bale, whose header was tipped over by Neuer, Bayern looked like the team who had lost their moorings.
What they needed was cool heads and deep breaths. What they got was the opposite. Javi Martinez pulled Ronaldo back and was booked. Just two minutes later, Ronaldo was breaking down the middle and Martinez clattered him to the grass. The only explanation is that he had forgotten his earlier card.
Bayern made two changes and were forced into a 4-4-1. Zinedine Zidane hooked Bale for Marco Asensio to make a more balanced 4-4-2, with more solidity in midfield.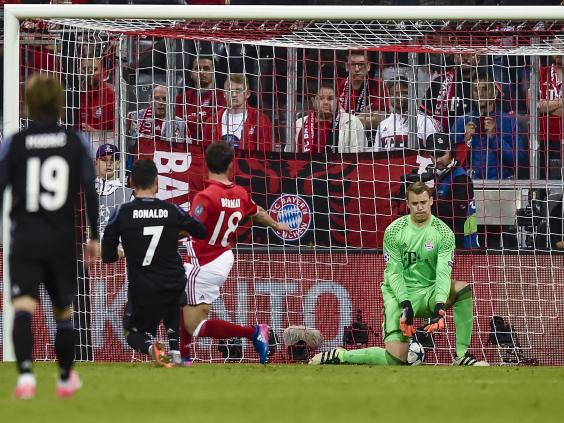 Ronaldo's second goal was squeezed under the legs of Neuer ()
It felt like a conservative move, but it gave Real the control to kill the game. They started to churn out chances, enough to eventually to take a crucial lead.
First Carvajal played in Benzema he should have done better than shoot at Neuer. Then Benzema had the ball on the left and found Ronaldo on the penalty spot, but Neuer stopped it with a crucial strong arm.
Neuer could not hold off the inevitable forever. Asensio got the ball in space on the left and swung in a cross. Ronaldo met it in the middle and his shot squeezed through Neuer and in. It was Ronaldo's second, Real's second, and it felt like a killer blow to Bayern Munich.
Reuse content
Source link
Comments
comments